My book, The Organized Heart: The Woman's Guide to Conquering Chaos was released in March 2011 by Cruciform Press.
It's been endorsed by Carolyn McCulley, author of Radical Womanhood and Did I Kiss Marriage Goodbye?, Matt Perman, Director of Strategy at Desiring God and Aileen Challies, wife of author and blogger Tim Challies.
The fight against chaos is universal, whether it be the outward chaos of disorder and frenzy or the inward chaos of fear and self-criticism. Even if we already know how to do better, something falls apart between our good intentions and getting it done.
Most books on organization just add more rules to your life, whether it be another plan, another calendar, or another method. This book will show you a different, better way that is grounded in the grace of God.
Jesus taught that true change doesn't come by the addition of more rules, but from the inside out, with a change of the heart that only the gospel can bring. When you identify the heart problems behind the chaos in your life, lasting change can happen. This will not only reduce the stress in your life, but help you be more effective in your service to God.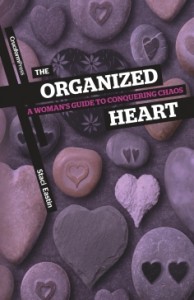 This book grew out of my frustration with the lack of organization in my own life, and my realization that another book on organizing was not going to fix the problem. I didn't need more rules; I needed more of Christ.
Click here for more reviews and endorsements.