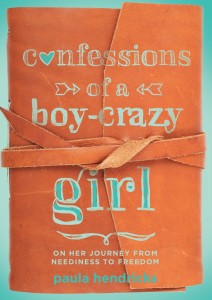 Hello. My name is Staci, and I used to be a boy-crazy girl. So was Paula Hendricks, but she has taken her story and done a great service to young Christian girls.
Part personal account and part gentle encouragement, Confessions of a Boy-Crazy Girl explores the struggle many single women have: how to desire the good gift of a husband without letting that desire rule you. Drawing often from her own journal entries, Paula tells of times when she thought she'd found The One, only to have her hopes dashed—and how she had to learn afresh to trust God in all things. Her story is honest and real, and I saw a lot of myself in it.
This is a hard subject to keep in balance, and you can fall off the fence on either side. Some writers, trying to communicate that Jesus is sufficient, wind up remaking Jesus in our image. Rather than depicting him as our Savior, he becomes an ideal, imaginary boyfriend (a subject my friend Persis recently tackled so well). This teaching borders on blasphemy, and it's time to put it to rest. I am so glad Paula didn't go there.
And while she emphasizes that God is sovereign—even over our love lives—she doesn't verge off into stoicism. Marriage is a good gift, and women are not ungodly if they want this. Women are free to ask God to fulfill this desire; the struggle is not allowing it to consume them.
What I also appreciated about Paula's story was how it doesn't end with how she finally let go and God sent the perfect guy. She is, in fact still single (she might not appreciate that quite as much as me). Although it does sometimes happen that way, it can imply that Mr. Right will come if you just stop wanting him to. As a result, rather than encouraging honestly wrestling with God in prayer, it becomes a reverse psychology mind game. This leads to a low view of God and his goodness.
And that's Paula's story: turning back to God over and over again. Realizing afresh how easily her mind can dart ahead to an imagined future with a guy she's only just met. It's a common tendency among women, and one that men don't seem to understand.
This book will mostly appeal to young women college age and younger. I also wouldn't hesitate to hand it to younger teenagers, and I think it could trigger some great conversations between mothers and daughters. I would like to mention, though, that at one point in Paula's story she had to explore her position on marriage after divorce. Her conclusions might differ from those of your church leadership. If your daughter is younger, you may want to be ready to have that discussion (which we should be doing anyway).
I highly recommend this book. There is a lot of bad teaching on this subject, and it's a great joy to see it handled so well.
I also have a sign copy of Confessions of a Boy-Crazy Girl to give away. To be placed in the drawing, please enter your name and email address in the form below. I will draw the winner a week from today on February 21, 2014.
For more information about Paula and Confessions of a Boy-Crazy Girl, visit her webiste.
I received a copy of this book for review purposes. This review reflects my honest opinion.