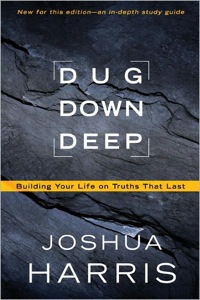 For different reasons many Christians in my generation and older generations are leery of too much emphasis on doctrine. They have come to equate doctrine with church splits, hate mail, arrogance, and angry diatribes. They have seen how easy it is for life-giving truths to be reduced to empty formulas. No wonder that, for them, Christian doctrine can seem more hindrance than help when it comes to cultivating a vibrant relationship with Jesus.

I understand. If my heart is cold toward God, I can turn the most precious truth into an end in itself or a weapon to attack others. This is part of the reason I find the story of the wise builder so instructive. It reminds me that doctrine isn't about me or my little tribe. Jesus said that the person who digs down to the rock is the one who comes to him. This has to be the first and final motivation. Pursuing orthodoxy and sound doctrine has to begin with a heart drawing close to Jesus—not to a theological system, denomination, or book.
– Joshua Harris, Dug Down Deep, page 30.