When people ask me for my favorite book, I always say it's this one. However, I've never reviewed it on here. This review originally appeared on my church's blog.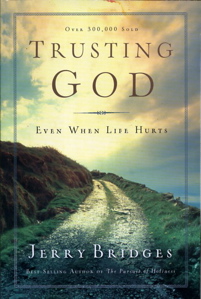 One verse we love to recite is Romans 8:28, "And we know that in all things God works for the good of those who love him, who have been called according to his purpose."
We're good at reciting it, but we don't always remember it. Especially when trials blindside us. In the book Trusting God: Even When Life Hurts, Jerry Bridges explores this concept. Does God really work all things for our good and his glory?
The point of the book is that God is sovereign over all. But because it's important not to take one of God's attributes and focus on it to the exclusion of the others, Bridges also takes time to examine God's love, goodness, and holiness.
The opening chapters deal with God's goodness. Can we really trust him? Is God really in control. If so, is he good? The middle chapters take on specific issues like God's sovereignty over people, nations, and nature. The final chapters discuss common issues that come up when we meditate on God's sovereignty, such as personal responsibility, God's love for us, how to trust him, and how to be thankful.
I found this book at a time in my life when I was struggling with worry and anxiety. The truths in this book and Bridges gentle but thorough treatment of them brought me tremendous comfort. I've returned to this book many times and always recommend it when someone I know is enduring one of life's storms.
Trusting God is one of those books that I think any Christian, in any season of life, in any set of circumstances will find helpful.