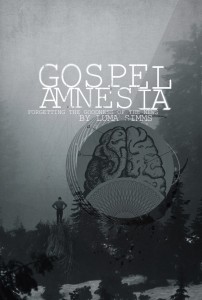 As Christians, it's easy to think that the gospel is for beginners, and that as we mature in the faith we need to move on to "bigger and better" things. The gospel, however, is for sinners. We never move beyond the gospel. Rather, we need to continue to embrace it. In her book Gospel Amnesia: Forgetting the Goodness of the News, Luma Simms addresses this problem.
A lot has been written and discussed about the importance of preaching the gospel to ourselves every day. The last Together for the Gospel Conference addressed this as well. This is something that we can't get enough of, and Luma has explored it in a wonderfully personal, heartfelt way.
Luma identifies three different forms that "gospel amnesia" can take: Distraction Mode, Progression Mode, and Presumption Mode. She explores how these problems manifest in the individual, in the local church, in evangelism, in denominations, and in the culture. This is not a book of finger-pointing, but an exploration of Luma's own journey. Her honesty and gratitude come through on every page.
This book serves as a great reminder of the centrality of the gospel, and will bless you no matter how long you've been a Christian.
I received this copy for review purposes. This review reflects my honest opinion.