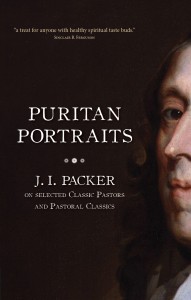 J.I. Packer thinks we need to be reading more from the Puritans. While he admits that they, like all generations, had their blindspots, their current reputation as harsh and loveless is undeserved. He says "the essential Puritan insight into the Christian life as a blend of structured obedience and hope based on freedom in and through Christ and on promises of grace sustaining close communion with God was a precious synthesis that Christians should have prized, and sadly did not."
Puritan Portraits serves as an introduction to these men and their work. The first part of the book discusses the historical context from which the Puritans arose. The bulk of the book was previously published as introductions to the Christian Heritage series of paperbacks published by Christian Focus. Those profiled include Henry Scougal, Stephen Charnock, John Bunyan, Matthew Henry, John Own, John Flavel, and Thomas Boston. He follows with chapters on William Perkins and Richard Baxter, and concludes with a chapter that summarizes the Puritan pastoral ideal.
The portraits are more than biographical sketches, although a lot of that information is included. Packer hopes to fill in the gaps that might make these works difficult for a modern reader. For some he might elaborate on information that may have been considered given knowledge at the time. For others he suggests ideas to meditate on or points out overarching ideas to look for.
Since most of the chapters were written as introductions to specific works, it sometimes felt odd that those works weren't included, but overall I found the book interesting. If you've been curious about Puritan writings but too intimidated to read them, this book would be a good introduction.
Many thanks to Cross Focused Media and Christian Focus Publications for providing me with copy for review. This review reflects my honest opinion.