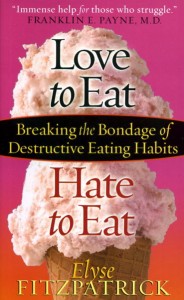 Let's face it, most women in Western culture will be concerned about weight at some point. But like everything else, the good desire to be healthy is often mixed with ungodly desires for approval. Not to mention the gluttony that often gets us here in the first place. In Love to Eat, Hate to Eat, Elyse Fitzpatrick wants to challenge our thinking on this subject and bring us back in line with Scripture.
The book is divided into three parts: "A Renewed Focus," "Understanding Who You Are," and "Embracing God's Methods for Change." The first part examines why we diet in the first place. This is an important point. Why is it that things like a class reunion seem to prod us on more than our health or well-being? Part Two reminds us why our health matters. God doesn't call us to be thin, he calls us to be good stewards of our health. She also discusses how our cravings for food are often our ways to fill a void that only God can satisfy. In Part Three she helps us put it all into practice. She examines overeating from a Spiritual perspective and encourages us to change our focus. She also ends the book with practical advice about calorie counting and diet plans. This information is pretty basic, and won't be news to anyone who's ever dieted before, but it's nice that it's there, especially for women who have resorted to fad, crash diets and need a healthy perspective.
Her motivation for writing a book on eating was similar to mine for writing The Organized Heart. Often we already know what we need to be doing, we're just not doing it. This book is similar in focus to Made to Crave by Lysa Terkeurst, but I liked Love to Eat, Hate to Eat better. I felt this book was more organized and did a better job delving into Scripture. Since Love to Eat, Hate to Eat was originally published in 1999, Made to Crave might have slightly benefited from current knowledge about things like carbohydrates and high fructose corn syrup, but not enough that I would recommend it above Fitzpatrick's book.
This is a good book. I recommend it to any one woman who thinks she might be overweight or have an unhealthy attachment to food. It will help you refocus your priorities in a godly way.