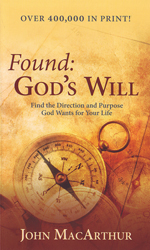 I had a different post planned today, then I learned that Found: God's Will by John MacArthur is free on Kindle today.
This is a short book, more of a booklet really, but it's a clear, biblical discussion on what God's will is for our lives. Don't waste time reading my blog post when you could be reading this book instead. I can't think of a better way to start the new year than thinking through how we can best follow God's plan for our lives.
I'm not sure how long it will be free, so I encourage you to download it today. Even if you don't have a Kindle, you can read it on your computer using a free Kindle app.