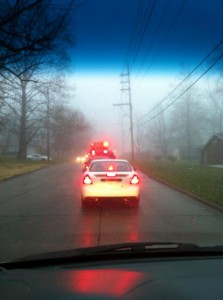 1. It's a foggy, foggy morning here. The photo doesn't do it justice, since a) I was more interested in safety that photography and b) I took said photo with my phone. Besides not wanting to hurt someone, I didn't think, "But officer, I wanted to get a photo of the fog for my blog," would be a valid excuse.
2. Because I am a product of the Illinois Public School system, every time I see fog I think of the Carl Sandburg poem, "The fog comes on little cat feet." Do other school children learn about Carl Sandburg every year, or is it just in Illinois? I realize he won Pulitzers and all, but I have a feeling when it comes to "famous Illinois poets," pickings are slim.
3. Illinois school children also learn about Lincoln every year. I know lots of Lincoln facts. I was quite surprised when I moved to Missouri and learned that here Truman's birthday is a state holiday, but Lincoln's is not. We never had a special unit on Harry Truman during my school years.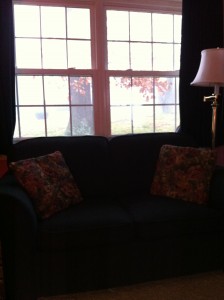 4. In other news, what do you think of our Christmas tree? We do not have our tree up yet, as we haven't decided how to rearrange our new-to-us furniture in order for it to fit. That's this weekend's project.
5. Speaking of Christmas, I loved Lisa's post today at Out of the Ordinary. Besides confirming that Lisa and I are kindred spirits, both in dusting and iPhone photography (among other things), it reminded me of the realness of Jesus' birth. We tend to imagine the nativity as something warm and fuzzy, but it wasn't. It was very real, just like our sin.