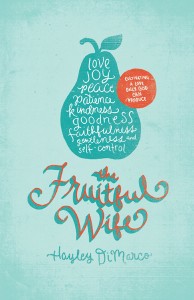 In the opening of The Fruitful Wife: Cultivating a Love Only God Can Produce, Hayley DiMarco clarifies her purpose:
The Fruitful Wife isn't a book about making your life more amazing, though it certainly can do that. The Fruitful Wife is about experiencing a life filled with the fruit, or produce, of God and the Holy Spirit. It's not about the perfect woman, because it's not written by the perfect woman, but it's about a life set on looking away from yourself so that you can better concentrate on the Father.
Based on that statement, Hayley certainly delivers. Since it's often in the context of the marriage relationship that we can see how much we fall short of exhibiting the fruits of the Spirit, the book is mostly geared toward wives. A lot of the book, though, would apply to any woman, married or single.
Each chapter concentrates on one of the fruits of the Spirit Paul lists in Galatians 5:22-23. She also delves into the opposite traits of some of these characteristics, which I found helpful. In the chapter on patience, for instance, she spends a bit of time on impatience and the root of impatience. By tackling everything from both sides, she shows how all-encompassing the fruits of the Spirit really are.
I liked many things about this book. Hayley writes in a chatty, engaging style that makes the book easy to read, but her teaching is biblically sound. Since she weaves her own stories throughout, you never feel that you're being talked down to, but she doesn't do so in a way that makes excuses for or rationalizes sin. That's not an easy balance to strike, and she does it well. She also never promises that better exhibiting the fruits of the Spirit will fix your husband. It's true that our relationships often improve when we focus more on God than ourselves, but not always. Hayley wisely points out that if your main goal is making your own life more pleasant, you're not striving to bring glory to God, but rather feeding your own desire for an easier life.
I only have one issue with the book. On page 156* Hayley says, "It is decidedly unfaithful to share your husband's sins, failings, or emotional life with other people." I also noticed shades of this opinion in the sections on patience and kindness.
When it comes to most marriages, I whole-heartedly agree. It's become quite fashionable in our society for women to openly discuss how "foolish" and "worthless" men can be, and Christian women too often adopt this mindset. Airing our petty grievances increases bitterness, fuels self-righteousness, and drives a wedge between two people who should be loving and respecting each other.
But sadly, sometimes women's grievances aren't petty, and people in the church are not exempt. Problems like alcoholism, child abuse, and pornography addiction can be found among people who sit in the church pews every Sunday. In these instances, we have instruction from Scripture.
If your brother sins against you, go and tell him his fault, between you and him alone. If he listens to you, you have gained your brother. But if he does not listen, take one or two others along with you, that every charge may be established by the evidence of two or three witnesses. If he refuses to listen to them, tell it to the church. And if he refuses to listen even to the church, let him be to you as a Gentile and a tax collector. (Matthew 18:15-17)
Let every person be subject to the governing authorities. For there is no authority except from God, and those that exist have been instituted by God. Therefore whoever resists the authorities resists what God has appointed, and those who resist will incur judgment. For rulers are not a terror to good conduct, but to bad. Would you have no fear of the one who is in authority? Then do what is good, and you will receive his approval, for he is God's servant for your good. But if you do wrong, be afraid, for he does not bear the sword in vain. For he is the servant of God, an avenger who carries out God's wrath on the wrongdoer. (Romans 13:1-4)
A part of me wants to acknowledge that I may be over-reacting here, especially since I have been accused both in my writing and in my teaching of over-explaining. Most women, thankfully, do not have these things going on in their homes. To be fair, the tone of the book indicates that Hayley is aiming this toward the woman who is griping about her husband's slowness with home repairs or sloppiness around the house. But it's been my observation that big dysfunction is often accompanied by big denial, so I think some women need to be told it's okay, and even biblical, to seek outside help when things get bad.
All in all, this is a good book. It's a much needed corrective against the poor theology in books like Debi Pearl's Created to be His Helpmeet (You can read a review of that here.) Books on marriage tend to over-promise more than any other category. Hayley wisely keeps the focus on glorying God through your marriage, rather than appropriating biblical teaching in hopes of "fixing" your husband. Most women will find it helpful, but I wouldn't recommend it to a woman whose marriage is in serious trouble unless she was also seeking outside counsel.
Many thanks to Crossway for providing a review copy of this book. This review represents my honest opinion.
*Since the copy I received is an Advanced Reader copy, page numbers may differ in the final edit.