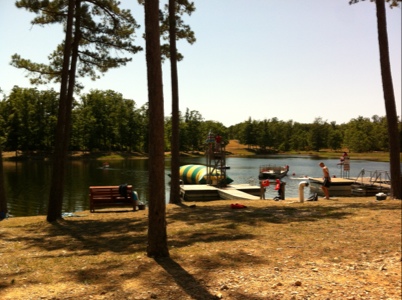 If you follow me on Twitter (or watch the news), you may have heard that last week when I was at church camp it was hot. We usually have triple-digit heat at one point in the summer–a couple of days in early August, perhaps–but not for over a week in June.
Heat makes people testy. Kids and children's camp leaders are no exception.
Don't get me wrong (especially if your kid happened to be there with me last week), these are good kids. But they're still kids, and they're still sinners. A kid that will normally take things in stride will, when exhausted and hot, have a shorter fuse.
So, for example, if a child walks in a realizes that some of his buddies are getting "spirit points" for cleaning the chapel, and HE wants to get spirit points by vacuuming, but someone else is already vacuuming, he might whine or pout when it's suggested he pick up papers.
Like I said, kids being kids.
But none of that had happened when I wrote this post. All was peaceful and lovely then. I wrote it on Thursday morning, planning to post it late Thursday night.
Then Thursday afternoon happened. The temperature rose to 108. The air was moving, but it felt like a blast furnace in your face. The air conditioning in our cabin was no longer keeping up. A couple of kids were getting homesick. My own kid got his feelings hurt.
As I lay on my bunk Thursday night, I almost didn't post my note of thanksgiving. "I shouldn't express thanksgiving I don't feel," I told myself. "It wouldn't be honest."
It was the "grown-up" version of what I heard all that day.
I can't make the balsa wood airplane for my craft, so I won't make the birdhouse either.
I can't go on the paddleboat with Joe, so I won't go at all.
I don't want to play what the other kids are playing, so they should just stop and do what I want to do.
And finally…
Camp no longer feels like a vacation, so I'm not going to express thanksgiving for any of it.
How very fickle we are. I'm glad God's faithfulness and goodness is not tied to my attitude. I'd be in big trouble indeed.