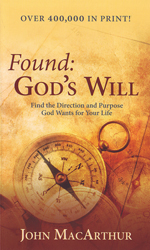 I've read this book before, and I didn't plan on re-reading. But Todd had it out the other day, and so I picked it up and read it again.
At 65 pages, Found: God's Will is a booklet rather than a book. I remember finding it helpful when I first read it years ago, but I was surprised how much it comforted me on the second read through.
You may have noticed that this is something I think about a lot. I think a lot of the teachings over the last twenty years have people walking around looking for signs and stirrings and special signals in a way that's more superstitious than biblical. I've known people who were so preoccupied with finding signs in everything that they may as well have been reading tea leaves.
On the other hand, much of the solid teaching on knowing God's will seems especially dry. People get drawn into bad teaching on God's will because they long for a close relationship with God. Teachers often battle against the crazy stuff so hard that they overcorrect, and God comes across like some distant, uncaring force.
This booklet keeps the balance, though. John MacArthur's premise is simple: God's will is plainly set forth in the Bible. God's will is that we be saved, Spirit-filled, sanctified, submissive, and suffering. Suffering, you ask? Yes. Suffering for the sake of the Gospel.

I am talking about a willingness to be bold, a willingness to face the world and let the chips fly. Don't ever water down the Gospel. If the truth offends, then let it offend. People have been living their whole lives in offense to God; let them be offended for a while.
That is classic MacArthur, who is known for his directness. But don't feel like you'll read this book feeling bludgeoned, I think this book is comforting. God's will is plainly stated in Scripture, so we can quit worrying so much.
MacArthur's point is if we're doing all these things (saved, Spirit-filled, sanctified, submissive, and suffering), we can do whatever we want. It's the same promise found in Psalm 37:4. If we walk closely with God, our desires will become his desires, and we can walk in freedom.
The thing I'd forgotten was how encouraging this booklet is. God is not cold or distant. He loves us and he cares what happens to us. He's not some sneaky taskmaster, hoping that we'll notice that we were given five croutons on our chef salad, so we're to take the job of the fifth company we interview with. He wants us to walk so closely with him that our heart aligns with his. That allows him to steer us easily, which is far more intimate that looking for signs.
It looks like the best price for this booklet is at Grace to You. They also have the links to the sermons, which I listen to years ago and enjoyed very much.