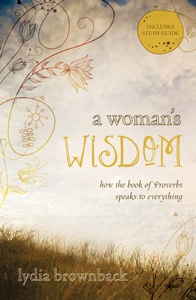 Although the book of Proverbs was written as advice to young men in ancient Israel, it provides wisdom for all human beings. In A Woman's Widsom: How the Book of Proverbs Speaks to Everything, Lydia Brownback takes that advice and applies it to the lives of 21st century women. But this is not just a book of helpful hints for an easier life. As Lydia writes in the preface:

Because the book of Proverbs provides us with a poetic road map of how God has designed the world to work, following its practical day-to-day guidance will surely make your life more pleasant. But disconnected from its divine source, even this will prove hollow in the end.
Throughout the book, Lydia takes us through the book of Proverbs, but more importantly points us to our ultimate hope, found only in Christ.
The nine chapters of this book are divided in three parts. Part one discusses what wisdom is and why it matters. The heart of the book, part two, explores six things wise women know. These six chapters cover our words, friendship, self-control, feelings, finances, and sex. The final part is an in-depth look at Proverbs 31.
All the book is solidly biblical and helpful. The final chapter on Proverbs 31 was, in my opinion, the strongest chapter in the book. This chapter is often boiled down to a giant, unrealistic "to-do" list, but Lydia managed to bring out the heart issues behind the actions, all while grounding it in the gospel.
I also enjoyed the study guide at the end. This is not just a handful of discussion questions tacked on the end, but a thorough exploration of the principles in every chapter. The questions meatier than those of many Bible studies on the market today. The book also provides a web address where the study guide can be printed out at a larger size, which would be very helpful.
And though we're not supposed to judge books this way, I think cover is exceptionally pretty, which is a plus.
This book would be a good choice for a book study or to use in a discipling setting. Even if you feel you don't need advice in say, finances, you might find something to think about. This is a solid resource for Christian women.
A review copy of this book was provided by Crossway Publishers. This review contains my honest opinion.