Day 1 of Together for the Gospel has been fantastic. I wish I had the brain power to blog about it properly, but I can't. It's midnight here, and I'm already on information overload. If you want detailed notes, Aaron Armstrong at Blogging Theologically has posted notes on all three sermons today. So head over to Aaron's if you're curious about talks by C.J. Mahaney (When a Pastor Loses Heart), Al Mohler (The Power of the Articulated Gospel), and Mark Dever (False Conversions: The Suicide of the Church). It also looks like you can watch the videos here.
The highlight for me was connecting or reconnecting with people who for most of the year are just pixels on a screen. First I attended Band of Bloggers, which was fun and edifying. Here's picture I took with my phone. Sorry the quality is so poor, but it's the best I can do: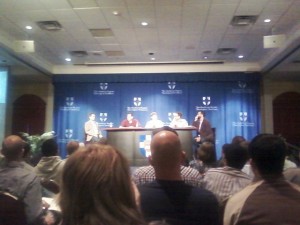 (That's Owen Strachan, Justin Taylor, Collin Hansen, Tim Challies, and Tim Brister.)
I also got to say hello to Cruciform Press founders Kevin and Bob (Tim was there too, but he was busy being on the panel). I also got to spend time with my friend Kim Shay and her husband Neil. Neil blogs at the Calvinist Gadfly, and Todd and I got to meet two of his fellow gadflies, David Kjos of The Thirsty Theologian and Pyromaniac Frank Turk.
So yes, the teaching has blessed me, but having the time to sit and talk has been my favorite part. Some other quick thoughts, since this is taking longer than I thought.
Here's a picture I took from my seat of the crowd:
Lots of people. I've heard that the there are 8,000 people here, about 90% male. This means two things: short lines in the women's restrooms, and awesome singing time. When over 7,000 male voices are belting out hymns like "The Solid Rock" it's really wonderful to hear.
All in all, a blessed day. Now to get some sleep, so I'll be ready for tomorrow.