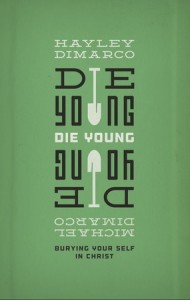 Hayley and Michael DiMarco want believers to understand that being a Christian is more than making a confession and then living life as before, but dying to yourself, to all your lusts, idols, and obsessions. Their shorthand description of this attitude is the title of their latest book, Die Young. "To die young," they say, "is to live for Christ and nothing else." (p. 17)* Die Young is written to believers, and is a close-up look at sanctification.
Books on sanctification are prey to two common pitfalls. Either the author can get so caught up in the actions of the Christian walk that they inadvertently add more rules (i.e. if you really love Jesus you'll quit your job and become a missionary), or they portray the Christian life as the key to better relationships (Jesus as life coach, if you will). The DiMarcos avoid both errors. It's a tricky balance, and I commend them for managing it.
The book did contain a couple of weaknesses. I wish their section on forgiveness had been clearer. They began by defining forgiveness as "giving up our right to hurt another in retaliation for hurting us." (152) But later they allude to the idea that forgiveness includes full reconciliation. This distinction is important when we discuss how to handle those who deliberately harm us and don't repent. Most readers will be able to sort out the difference in the context of the reading, but an extra paragraph or so would have clarified things immensely. I also would have liked more explanation of public versus private confession.
I also have a quibble with the formatting. The book is interspersed with sections where the authors give personal examples of how each principle played out in their own lives. The examples are helpful and clarifying. The fact that they seemed to come at random intervals and interrupt the flow of reading was not. After a chapter or so, I began skipping them and going back to them as I finished the chapters. This isn't the first time I've seen this kind of thing, but it always drives me crazy. Perhaps it was a good way for me to practice patience.
Those two things, though, are not enough to sink the whole book. Overall it's very well done. The book is biblically sound. Each chapter covers facets of sanctification that believers need to hear. Of particular note, their section on submission is one of the best discussions of the subject I've seen in a while.
It looks as if Crossway also has plans for a video component. Provided these videos are as well done as the book, that would be an added tool to use with this book in a small group study.
The DiMarcos' publishing history, along with the tone and format of the book tell me that this will likely appeal to younger people (high school and college age). That's a good thing, in my opinion. Since much of what is marketed to them is either fluff or heresy, I'm pleased to see something that will reach this group with a biblical discussion of what living for Christ means in the day-to-day.
*Since the copy I reviewed is an Advance Proof, page numbers might be different in the final edit.
Many thanks to Crossway for providing this book for review.