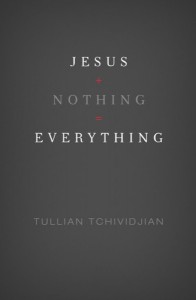 The summer of 2009 was one of the hardest periods of Tullian Tchividjian's adult life. The church he had planted had recently merged with the well-established Coral Ridge Presbyterian Church, and it wasn't going well. Disgruntled members had started a petition to remove him as pastor. He felt fragile and defeated, and couldn't imagine what God was up to.
In this time he found himself reading the book of Colossians. Through his reading and study, he realized he had come to rely on personal success and the approval of others for his hope and security. Once those were gone, he felt he had nowhere to stand.
This is the fire from which the book Jesus + Nothing = Everything was forged. Tchividjian wants to reorient Christians to the gospel, to stop thinking of the gospel as only a launching pad into faith, and remember that it's the only hope than any of us have.
Tchividjian says Christians often get mired down into perfomancism (which frequently overlap with legalism and moralism). We get so caught up in what we're doing for God, we start to view the Christian life as a cycle of "you scratch my back, I'll scratch yours." Then, when trials come (as they inevitably do), we find ourselves sinking into fear and despair. He wants to shatter this cycle by reminding us that the pattern found in Scripture is to first bask in what Jesus has obtained for us then to draw from that the strength to move forward.
Tchividjian tips his hand early (the title pretty much says it all). He lays out the bulk of his argument in the first quarter of the book, then uses the rest of the book to delve into it more deeply. This sometimes made the middle section seem a bit repetitive, but the additional points made in the later chapters are essential. This book is brimming with fantastic quotes. I'm an unapologetic underliner and annotator, but I covered the pages with notes and highlights — much more than usual. Because he makes his point at the beginning and jabs at it from all sides (rather than building his case step by step), this book often had the feel of devotional reading.
He also draws from books such as Because He Loves Me by Elyse Fitzpatrick and Counterfeit Gods by Tim Killer (both of which I have read) and The Gospel-Driven Life by Michael Horton (which I haven't read). If you're familiar with those books, you're going to recognize many the points made, but since this is a book about the gospel, originality is not something to strive for (as Paul pointed out in Galatians 1:8).
This book was borne out of a specific experience in Tchividjian's life. It's likely, then, to speak more clearly to people in similar circumstances — people so immersed in the outward trappings of church life that they've lost sight of centrality of the gospel.
People who find themselves living with regret over specific mistakes or the consequences of outward sins might not identify quite so easily with Tchividjian's largely internal struggle. He does speak to those situations, but not as tangibly. I do think, though, that his point that all sin starts with the belief that we need to seize for ourselves what only Christ can obtain for us is a valuable one:
Every temptation to sin is, in the moment, a temptation to disbelieve the gospel — the temptation to secure for ourselves in that moment something we think we need in order to be happy, something we don't yet have: meaning, freedom, validation, and so on. Bad behavior happens when we fail to believe that everything we need, in Christ we already have; it happens when we fail to believe in the rich provisional resources that are already ours in the gospel. Conversely, good behavior happens when we daily rest in and receive the finished work of Christ in deeper and deeper ways, smashing any sense of need to secure for ourselves anything beyond what Christ has already secured for us. (page 171)
Some have argued that Tchavidjian spends so much time urging us to focus on what Christ has already done that he portrays sanctification (the process of growing to be more like Christ) as something that happens effortlessly with the right mindset. Let me diplomatically say that's more of a result of the structure of the book rather than the content. Tchavidjian never denies that the process of growing in Christ is hard work (this is especially driven home in Chapter 10), but he wants us to start with the indicatives (what "God in Christ has done for us") and from that grounding move on to the imperatives (how we are to live in response to that). (page 61)
Part of me wonders if this could have been a stronger book (and one less vulnerable to criticism) if Tchavidjian would have taken the time to delve into more detail about some of the outward struggles that can shipwreck our faith. But as I reflect on that, I think his narrow focus is deliberate. Like Respectable Sins by Jerry Bridges, Tchavidjian wants to speak to situations that are often neglected. He wants to combat the legalistic mindset that entraps people who appear on the outside to be doing okay. The 25 additional books on the gospel listed at the end of this book further drives home his point: this is not meant to be the final or only book on the gospel, but another voice reminding us of things we forget all too easily.
Many thanks to Crossway for providing this review copy in exchange for my honest opinion. A full disclosure statement can be found here.