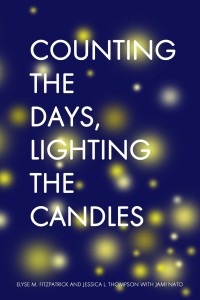 I'll admit it, Advent isn't something my children have warm, fuzzy memories of. In fact, I wouldn't be shocked if one (or two, or all three of them) would say, "Advent? What's Advent?"
I've tried, because I love the idea. I even made a wreath one year. I think we even got one of the candles lit. But then about the time we were rushing off to our eleventy-billionth Christmas event of the month, I moved the wreath out of the way and forgot about it.
It's a busy time. And let's face it, a lot of the Advent devotionals out there (who am I kidding? I've only seen the free ones) are a little, um, dry. Which is sad, because God coming to earth as a baby is about as riveting a story as there is.
But Counting the Days, Lighting the Candles by the awesome mother-daughter team of Elyse Fitzpatrick and Jessica Thompson looks do-able. It's also written in an accessible, entertaining style that will keep even the squirmy kids interested. Plus, if you are familiar with Elyse and Jessica at all, you know that they want to make it about GRACE, which is the message we all need, all year round.
In other words, this is a resource worth spending your money on. But you may not have to, because I've got a signed copy to give away. And since the holidays are busy enough, I'm keeping it simple: just comment. If Advent is something that you do have lots of warm and fuzzy memories of, share that. (Really. I won't hate you. Some people are good at this, and that's something to celebrate. We're all different.) Or, if you would like to be more deliberate about Advent, share that. Or, if you're too busy trying to find a snapshot that's suitable for your Christmas cards just say, "Enter me." I'll count that, too.
I'll leave it open until 8pm, CST on Sunday, November 25, 2013. Then I'll draw a name and the book will be mailed to you.
Comments are now closed. I'll announce the winner shortly. Thanks for entering!